Tenerife Real Estate Property search (in all regions)
Tenerife Real Estate Offers by region (Just click on the Region name to list the properties)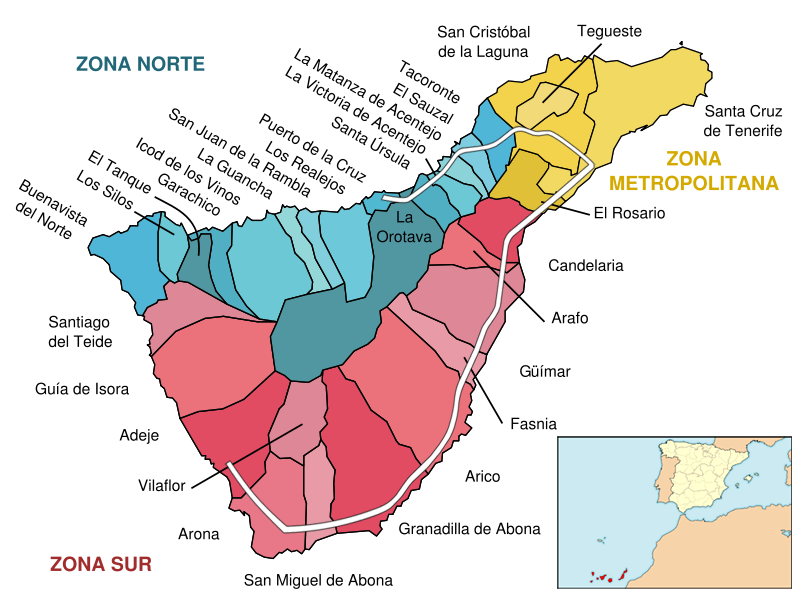 7. El Rosario (5) »
8. El Sauzal (20) »
9. El Tanque (2) »
11. Garachico (5) »
15. Icod de los Vinos (16) »
16. La Guancha (2) »
17. La Laguna (2) »
18. La Matanza (7) »
19. La Orotava (16) »
21. Los Realejos (15) »
22. Los Silos (3) »
23. Puerto de la Cruz (57) »
26. Santa Cruz de Tenerife (1) »
27. Santa Ursula (17) »
29. Tacoronte (19) »
Tenerife, Country house with guest house, 12000m2 land and fantastic views

Location: Tacoronte - San Juan • Ref. Number: 5053
Municipality / Location :

Tacoronte / San Juan »

Surfaces :

• Plot: 12000 m²
• Livingspace: 700 m²

Rooms :

• Bedrooms : 4
• Bathrooms : 4
• Furnished :

Exterior :

• Balcony / Terrace : - / 3
• Garages : 1

• Pool : Yes

Reference Number

5053-Fincas

Price :

1.990.000.- €




Price in other Currencies »
Property Description :
The property is located in the outskirts ofTacoronte a quiet area, with views to the Atlantic, 100 m and sea. Dream location. Anything more beautiful you will never get.

Quality, exceptional design , and situated in a quiet , central area of Tacoronte - Tejina are just some of the characteristics that describe this spacious home . The owner has planned and designed this house by himself together with the architect. Due to this avery unusal and open roof construction has been createt.An open loft that will also provide lots of design options for possible future owners.The lower lever living area has a large entrance hall, a living room with fireplace , an inviting dining area , a separate country style kitchen with larder. Various terraces around the house provide at any time of day to enjoy the sun . The property includes one bedroom with en suite bathroom (handicapped accessible) and another bedroom with separate bathroom as well as a dressing room with build in wardrobes.In the basement we find different rooms which are currently used for various purposes,e.g., laundry room , storage rooms, work rooms also be used as a separate apartment. There are also a beautiful wine cellar with tasting room and a garage in this area. The garden is laid out over a large area , easy care with a pool area and fantastic views of the " Teide " and the sea. The dream of a residence, on a fantastic estate might be fulifilled here. This attractive property has a very special atmosphere , the spacious rooms, the real wood flooring, wood work, attention to detail reflect the feel-good factor again . There are still 12.000 m2 of land to which can be used for agriculture and there of approximately 3.000m2 are designated as a plot for futher building. Another guest house ( to renovate ) with its own entrance is located on the plot. Located far away from the tourist hustle everyday and the associated environment
partly furnished
Do you have more questions ? send us a message !